STEP No. 2: LIST DOWN ALL YOUR DEBTS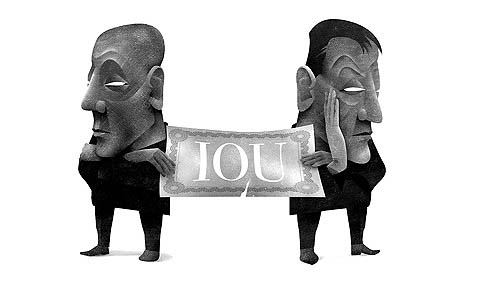 Don't Jeopardize Relationships over Money
What do you think is the difference between wicked and righteous? Last time I did some posting about how to pay off debts, and what are the steps because I know, one way to have peace of mind is to be financially free and another way to have peace is to be debt free. Let us all admit that no one doesn't want to be financially stable. Yes, money cannot buy happiness, but it can give you peace of mind thinking that tomorrow you have something to give to those people who comes to you because they are

really

financially in need. According to Psalm 37:21--The Wicked borrows but does not pay back, but the righteous is generous and gives. My parents taught me a lot of misconception about life most especially in terms of money. I am not blaming them because they didn't come from a rich family like the Ayala and the Zobel, or the Cojuangco and the Aquinos.
My parents both came from humble beginnings. Though according to my mother, my father's family own a mango farm in their province and my grandfather on my father side was a well-known educator in their town because he was a school principal. That is why I am still thankful that my parents value education more than anything else in this world. But one thing they didn't educate me is in term of financial literacy. Now I am trying my best to teach my children how to be financially independent at an early age, to be content in what they have, to be frugal and value life and relationship more than anything in this world.
I saw a lot of broken relationship because of some financial problems. I myself, I experienced it first hand as I enter adulthood and started to be conscious about life and it's meaning, how my mother and father argue because we don't have enough amount of money to pay our monthly bills. How my husband and I fought because our salary was far behind our debts that we need to pay. But those were the days, I thank God that my parents taught me one important thing, how to value people over money. Yes even though I was so preoccupied and busy achieving my goals on how to be financially independent my feet are still on the ground knowing what is important and what is not. Don't waste the long time friendship over money, the happy memories you had with someone because of trying to escape the reality of debt. Paying off debt was as easy as counting and reading the ABC's. Just don't forget to ask the guidance of the lord to give you so much knowledge, courage and the determination to face the reality. So the second step in paying off your debts is LIST DOWN ALL YOUR DEBTS. Do not disregard or ignore some of your lenders because you think that they are close to you, regardless if they are your closest relative, someone whom you think understand you the most, because sometimes we tend to hurt the feelings or ignore those people who are closest to our heart. My mother used to tell me.
"Ang utang ay utang, ang hingi ay hingi, kahit isang
daan
pa yan pag hiningi mo
kahit di mo na bayaran
okey
lang,
pero ang piso kahit piso lang yan pag inutang mo
ito
ay kailangan mong bayaran".
This means regardless how much the amount of money you borrow as long as you take it for your own use and benefits returns the favor and don't throw what is the most important things in life, the people around you. So start listing down all your debts and next time I will tell you how to pay them in a minimal way possible. That you and your lender will both benefit from it.